Choosing the best from all the available free movie apps can be really hard. Because there's just tons of them, right?
Of all the free movie apps, which one is really the best?
You don't want to ruin that Saturday Movie Night with your girlfriend just because you picked a failing app.
To make your life easier, I have dived deeper to this issue and created this geeky comparison review of the best free movie apps available in the market.
I compared and tested many aspects that you even did not think of. It will enable you to choose really the one app which suits you the best.
Lets get ready to find out which is the best!
Table of Contents
THE FREE MOVIE STREAMING APPS SITUATION
Before we go to the review.
Let's make a quick summary
Movie streaming app is an application you can use to watch movies for free.
These movie streaming apps use different file hosting sources to store films and TV shows and then uses built-in media players to access those hosting source.
How it all works?
Movie streaming apps get their movies from file hosting sites like YouTube. This means every time someone watches a movie from the app, it earns from the clicks and views of the user.
How movie app makes money?
In case you are wondering how developers make any money from these movie streaming apps. Almost all of the free movie streaming apps contains ads. It is that easy.

MY REVIEWING METHODOLOGY
I have chosen 11 basic movie streaming apps. I have selected only apps which are free , easy to use, virus and bloatware free too. Because you simply don't want to clean your phone from viruses every time you watch a movie.
I have tested several aspects of the apps which you guys can find important. All those things basically come down to user experience things as app memory size, movie library database or stream quality.
But that's not all,
I also went a bit deeper (only for you, my geeky friend) with technical qualities of the movie streaming apps. Particularly I focused on battery consumption, ram usage, and internet bandwidth.
Lastly,
You will see my final comparison and review at the end.
But before we go further let's see the list of the chosen movie apps and their features summary.
1.SHOWBOX – MOST USED ONE OF THE FREE MOVIE APPS

Showbox is one of the best movie streaming apps for android. You can choose from a wide library of movies and you can watch it all for free. After you install the app, you are good to go and have fun.
Now for the features of the application:
GOOD LOOKING INTERFACE

After you launch the application you will see a menu bar at the top which allows you to navigate through the app allowing you to access different sections of the app.
NEWS PAGE
Showbox has a cool feature that shows you all the latest news and headlines about movies.
TRAILERS INCLUDED
Yes, you read that one right.
Showbox has trailers for all the movies in their library. Saving you time going to YouTube just to watch the trailer of that particular movie.
FAVORITES
Favorites tab is acting like a playlist of all the movies that you want to save or a bookmark so that you will not have a hard time finding the movie the next time you want to watch it.
DOWNLOADS FOR OFFLINE USE
Showbox allows you to download movies for offline use. This may also come in handy if you like watching movies on your TV.
UPDATES
The app lets you see the upcoming movies and TV shows to be released.
EXTRAS
-Multi language subtitles
-720p movies
2.TERRARIUM TV FREE MOVIE APP – ANY HIDDEN SNAKES UP THERE?

Terrarium TV is also one of the best movie streaming apps. It has a wide range of HD movies and TV shows you can watch. The app is available for android devices with versions of 4.0 and higher.
Check this out:
USER FRIENDLY INTERFACE

Terrarium TV allows you to mark your favorite movies and put it on a single list so that finding the movies you love is easier. Download Terrarium TV APK to enjoy free streaming movies.
EXTRAS
-Trackt.tv (still in beta)

3.MEGABOX FREE MOVIE APP – MEGA USER EXPERIENCE

MEGABOX is a free movie streaming app available for your android devices. It is indeed mega as it offers a wide range of updated movies.
For its features:
GREAT INTERFACE

I was impressed by how very well the app responds. I must say that it has the smoothest user interface among the applications that I have tested. The interface has slick animations making your movie experience a lot better.
CONTENT CHOICE
The app has an impressive lineup of movies and TV series. The movies are sorted out very well. Every movie displays the year when the movie is released. IMDB ratings, genres, and the synopsis of the movie.
FAVORITES
The app features a favorites menu which lets you organize your movies and TV series better. Making it easier to find your favorite videos as it will be sorted in one place.
DOWNLOADING FEATURE
MEGABOX allows you to download all of the movies you like. You might find this as an option if you prefer watching movies without buffering.

4.CINEMABOX HD MOVIE APP – PLAYBOX SURVIVAL

This movie streaming app has a lot of HD movies for you to watch. Cinemabox does not require you to have any accounts to use all of its features. The app is available on both IOS and Android platforms.
USER INTERFACE

The interface is one of the simplest designs I have seen. As the app launched it will display movies which are sorted in their respective categories. Finding movies in the app is easy. Thanks to its well-organized UI.
SAFE AND SECURE
Many free movie streaming apps includes malware and bloatware that can slow down your device. But this app is completely safe and free.
ALTERNATIVE SOURCES OF STREAMING
The movie streaming app allows you to have alternatives. If the main video host is down you can switch to another streaming host. Making sure that all of the movies in the app would be available for you.
CHILDREN SAFETY
Cinemabox has a feature to hide adult contents from the app so that your children would be safe. The feature also allows you to block movies you don't want your children to see.
DOWNLOADING
The app allows you to directly download movies from the application so that you can watch it in offline mode and whenever you are on the go. Head over to cinema box download ios for you to enjoy latest free streaming movies.
5.VIEWSTER – THE ANIMATOR

Viewster is a free movie streaming app that connects audiences. The videos in the library focus more on anime. The movie app is available for android and IOS.
Here are the features:
STRAIGHT FORWARD INTERFACE

As you open the app it will display all the latest videos. A search bar is included to help you find videos faster.
ORGANIZED CHANNEL
Channels menu is divided into three parts the recent, trending, and all. The organized interface makes video browsing convenient for you.
FINDING WHAT TO WATCH
The movie movie app has a browse section which allows you to explore different videos available in Viewster. All the videos are sort based on their categories making it easier for you to find videos base on what you like.
BLOG READING FEATURE
You can read articles in the app and not just watch videos. The channel is more on anime and there are several good reads you can find there.
MY VIDEOS CHANNEL
My videos let you see what channels you are following. There is a history page that saves all the videos  you have watched.Last is the list of the videos you have liked.

6.POPCORN TIME DO YOU WANT A SODA WITH IT?

It is one of the most popular free movie apps available right now. The app is often dubbed as the Netflix of torrents. Popcorn time is an open source Bit torrent client that has a built-in media player. It's available for windows, IOS, and android.
Let's list down all of its cool features:
GREAT UI

Popcorn time has a straight forward interface. On the main page of the app, there is a list of all the latest movies in their library. A search bar is available at the top of the screen. There is a sliding navigation menu where you can select from movies, TV shows, and anime.
FAVORITES
Popcorn time allows you to save your favorite movies in one place so that you can easily locate them anytime.
MOVIE DOWNLOADING
Popcorn time allows you to download movies for offline use. The good thing about popcorn time is that it is completely free to download movies.

7.SNAG FILMS – DOCUMENTS LOVERS APP

SnagFilms is a movie streaming app that focuses on documentaries and independent films. There are over 5,000 movies out in their libraries. The site contains minimal ads and there are plenty of high-quality films.
ORGANIZED INTERFACE

SnagFilms user interface is organized nicely. Right, when you open the app it will show you the featured movies. There is a top navigation panel that allows you to choose from different movie categories. A search button is included for finding movies.
PLAIN VIDEO STREAMING
The movie streaming app is pretty straight forward movie streaming. Most of the films in the app can be streamed in 720p and 1080p but has some issues which I will tackle below.
STREAMING ISSUES
While watching movies in the app I often encounter buffer problems when I try to stream movies at high quality. Every time I watched at 720p and 1080p resolutions and try to fast forward the movie I always get an error and the movie will stop. This will force you to reload the movie and start form the beginning.
So how can you fast forward movies?
The only option for you to fast forward movies is that if you stream it at much lower quality. It might be the SnagFilms servers. I never encountered this problem in other streaming apps.
Annoying isn't it?

8.TUBI TV – THE FRIENDLY ONE OF THE FREE MOVIE APPS

TUBI TV has over 200 partners keeping all the content of their application updated weekly. It is directly available in the play store and app store for free.
For its features,
SIMPLE INTERFACE

As the application opens, It will display the featured contents of TUBI TV. A navigation menu with a search bar is available to assist you in sorting the movies you want to display.
NEWSFEED
There is a news feed section in the app. It displays announcements and latest news about the application. But the news feed is not updated.

9.BIGSTAR MOVIES – THE ODD ONE

BigStar Movies is a good movie streaming app both for android and IOS. The app will give you an option to choose from a basic user and a premium user. BigStar Movies also have a wide range of movies from Hollywood and Bollywood.
INTERFACE DESIGN

For a movie app that offers premium services, The plain white interface that lacks transition effects is somehow underwhelming. It did not have that convincing power that would make you avail its premium content.
BASIC AND PREMIUM SERVICES
Basic services will give you access to a limited selection of free movies. The premium option will grant you access to the full library of movies they offer, Allows you to stream in HD quality, there will be no advertisements of any sort all for $4.99 a month.

10. MOVIE HD MAKE THAT CHROME SHINY

MovieHD has the latest Hollywood movies and TV shows. It is available on Android and IOS device. The app is comparable to other movie streaming apps like Popcorn time and Showbox. What makes it different is that it supports chrome cast.
PRETTY MUCH THE SAME INTERFACE

MovieHD has the same functions just like the movie streaming apps above. The movie app has a wide variety of movies from the old ones up to the latest ones. It also supports chrome cast.
CHROME CAST ADVANTAGE
The good thing about this app is that it supports chrome cast which allows you to stream movies on bigger screen making your viewing experience even better.

11.CRACKLE – IT'S ALWAYS ON FREE MOVIE APP

Crackle is a free movie and TV show streaming application from Sony Network. It has a wide variety of movies  and exclusives for you to watch. The app is available on Android, IOS, and Windows.
Let's get into its features:
GOOD INTERFACE

Crackle's application is fantastic. The main page shows you all the featured movies and TV series. The movies and TV shows are separated into two different sections.
WIDE RANGE OF MOVIES & SHOWS
Crackle's movie library features movies from the 60's up to the present ones. There are hundreds of full-length movies and at least 40 TV series available for you.
FAVORITES
Just like the other apps. Crackle also supports a favorites feature. It allows you to save all of your favorite movies and TV series in one section.
PAUSE – PLAY FEATURE
This feature allows you to pause the video you are watching and continue watching it on your other devices right where you paused it.
PLAY AND SEARCH
Crackle's 'ALWAYS ON' feature allows you to stream videos while searching for another movie at the same time.
EXTRAS
-Sharing videos in social networking sites
-Subtitles

OTHER SITES/APPS TO CONSIDER
You might want to take a look at this other movie streaming applications and websites.
–Watch32
-Putlocker
-Popcorn Flix
BIG COMPARISON
I gather all the features of the movie streaming apps listed above and created a chart that would analyze and score each app based on the categories given.
Lets see how they perform
STREAM QUALITY – PIXELS THAT COUNTS
You don't want to watch blurry movies don't you?
I tested out all the applications to find out which offers the best stream quality. In terms of the resolution, the clear winners are POPCORN TIME and TERRARIUM TV. Both applications offer 1080p movie streaming with no issues.
The runner ups would be MOVIE HD, MEGABOX, CINEMABOX, VIEWSTER, and SHOWBOX. All five apps offer HD movie streaming at 720p resolutions.
NUMBER OF MOVIES IN THE LIBRARY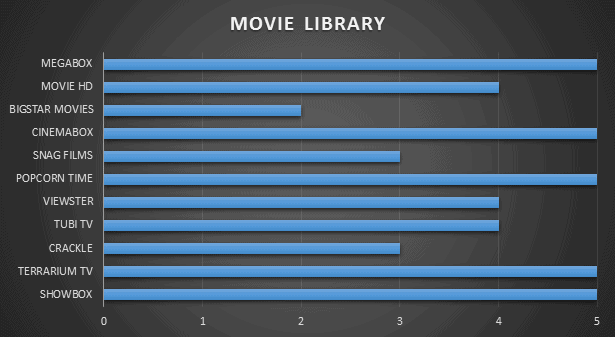 You would not want a movie app that has good interface, but doesn't have much to offer right?
In terms of movie content, I tested out all the apps based on what films it offer and how many films does it have in their libraries. CINEMABOX, POPCORNTIME, MEGABOX, TERRARIUM TV and SHOWBOX had a five-way tie for the top spot.
Here's the deal:
All of the apps offered great amount of movies including old and new ones. VIEWSTER and TUBI TV , on the other hand, shared the second spot as both applications offered a lot of originals and exclusive videos you cannot find on other apps.
APPLICATION SIZE – MEMORY
You want to take photos too so I bet you don't want a movie app that would take up all your storage.
If you are concern about the app size MOVIE HD , MEGABOX, and BIGSTAR MOVIES would be the clear winner. It only takes 3MB of device memory. The size of each application also indicated how much the app can offer.
So, yes
I would still prefer larger applications like SHOWBOX and POPCORN TIME as it offers more functionality and better viewing experience compared to smaller apps.

TECHNICAL ASPECTS COMPARISON – LET'S GET GEEKY
So let us see how the apps perform from a technical point of view.
I will test them based on how they use your phones resource.
PROCESSING POWER
In terms of processing power needed to run these applications, I tested each app and recorded how much time does it take for each app to launch. I used my quad-core Snapdragon processor device as my test bench.
The result?
It is quite the same for each app as there is only a second difference between each app. The fastest in the group is BIGSTAR MOVIES while CRACKLE ranked as the slowest. All of the app launched at an average speed of 4.5 seconds which is a good indication that all of the apps are well optimized.
BANDWIDTH USAGE
You do not want to drop dead before the movie starts so let's see how our movie streaming apps performed in bandwidth.
But how?
To find out how much bandwidth do the applications require to stream movies, I limit my internet bandwidth to 1Mbps then stream movies in different qualities.
BIGSTAR MOVIES and VIEWSTER load the movies a bit slower as both took 4 minutes to load a 480p resolution movie. The 1Mbps internet bandwidth is enough to stream 480p movies decently with tolerable video buffers.
The only problem?
High-Quality streams took 6-8 minutes to load and even a long 9 minutes of waiting for SNAG FILMS. The streams buffered every 20 seconds and take at least one minute to resume.
However,
If you stream movies in HD resolutions, you should have at least 3Mbps of internet bandwidth to stream movies smoothly.
BATTERY USAGE
You feel like you need to charge your dear smartphone too often?
I tested the battery consumption of all free movie apps. My phone has 18000MAH battery capacity. Keep in mind that results may vary for every phone.
SHOWBOX and POPCORN TIME consumed the smallest battery life. SHOWBOX used 40% while POPCORN TIME used just 35% of my phone's battery. MOVIE HD and VIEWSTER performed worst consuming half of my battery's capacity after an hour.
However,
If you like watching movies when you are traveling. I strongly recommend POPCORN TIME and SHOWBOX for its low battery usage.
WHO IS THE BIGGEST RAM EATER?
Let's find out which from the movie streaming apps will eat the most.
I tested all the applications and record its RAM usage. If you are looking for an app that has minimal RAM usage then CRACKLE and VIEWSTER would be perfect for you. SHOWBOX uses 79MB of ram while its running; POPCORN TIME has 49MB of ram usage.
Want to know the best part?
Applications above has an average of 40-60MB of RAM usage. I did not find any issues when it comes to ram usage on any of the applications. An application that use less than 100MB of RAM is a good indication that the app doesn't have any bloatware.

AND THE OSCAR GOES TO…FREE MOVIE APPS FINAL TABLE COMPARISON
FINAL WORD
Let's face it,
If you still can't decide which app to use, Netflix would always be at the top spot as it is still the best movie streaming application available.
If you are not into spending money, I would strongly recommend using SHOWBOX, CINEMABOX, and POPCORN TIME.
Also,
If you are looking for the best free movie download app for android MEGABOX would be the one for you.
On the other hand,
For parents who wants a safe environment for their kids to watch. CINEMABOX would be the right one for you. It is the only movie app in the group that has a safety feature that allows you to control what your children can watch.
At the end of the day,
You can't complain that much for something that is for free. For an app that gives you a viewing experience close to premium movie streaming applications, Showbox and Cinemabox are really worth trying.
Don't forget to share some love if it help you to pick the right app for your Saturday evenings.